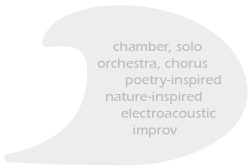 Welcome!
Here you'll find my contemporary classical music for many instrumental and vocal combinations. Browse my Sheet Music Catalog, which is one way to peruse the Spindrift store. Check out the Listen pages, or find listening links for specific titles in the store. Check out my projects. If you don't find something for your instrument, contact me so we can collaborate on something new.
Pam's Music in Concert
May 11 & 12, 2019 Triad Choral Collective: Songs from a Quaker Heart
May 14, 2019 Henning Ensemble: Chasing Ghosts, Conversation with Cascades (premieres), Whisper Solos
Nov 3, 2019 Arlington (MA) Philharmonic: Through the Mist
Newly Published for Chorus
by Pamela J. Marshall
Christmas anthems:
20 Improv Ideas E-Course
Do you wish you could improvise?
Practice free-style improvisation when you practice your instrument.
It's fun & musically rewarding!
20 Improv Ideas
Free email lessons in your inbox.
Read more about improv in my Elusive Music blog: "Free-Style Improv Basics"
Martin Luther King Memorial Concert: In His Own Words
5 composers, 1 poet, 1 soprano, 3 strings, 1 organ
Watch the LexMedia Video. Search for "Martin Luther King" in onDemand.
Contact the performers about bringing "In His Own Words" to your community.