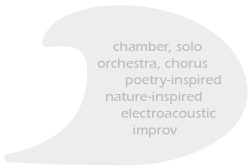 Welcome!
Here you'll find my contemporary classical music for many instrumental and vocal combinations. Browse the Sheet Music Catalog and CD & Downloads page. Check out my projects. If you don't find something for your instrument, contact me so we can collaborate on something new.
Pam's Music in Concert
Nov 30 & Dec 2, 2018: Concert Singers of Greater Lynn: Shepherds and Angels
Jan 20, 2019: In His Own Words: In memory of MLK, Christ Church, Cambridge, MA: Sweet Princesses (Birmingham 1963)
Newly Published for Chorus
by Pamela J. Marshall
Christmas anthems:
20 Improv Ideas E-Course
Do you wish you could improvise?
Practice free-style improvisation when you practice your instrument.
It's fun & musically rewarding!
20 Improv Ideas
Free email lessons in your inbox.
Read more about improv in my Elusive Music blog: "Free-Style Improv Basics"
Martin Luther King Memorial Concert: In His Own Words
5 composers, 1 poet, 1 soprano, 3 strings, 1 organ
Watch the LexMedia Video. Search for "Martin Luther King" in onDemand.
Contact the performers about bringing "In His Own Words" to your community.