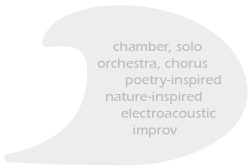 Welcome!
Here you'll find my contemporary classical music for many instrumental and vocal combinations. Browse the Sheet Music Catalog and CD & Downloads page. Check out my projects. If you don't find something for your instrument, contact me so we can collaborate on something new.
Lastest Works
Sanderlings for solo tuba


Sweet Princesses (Birmingham, 1963) for soprano, violin, cello, ringing objects, and audience. Concerts in honor of Martin Luther King planned for spring
Drawing by Catherine Clark - CatherineClarkStudio.com
Music for Flute
by Pamela J. Marshall:
20 Improv Ideas E-Course
Do you wish you could improvise?
Practice free-style improvisation when you practice your instrument.
It's fun & musically rewarding!
20 Improv Ideas
Free email lessons in your inbox.
Read more about improv in my Elusive Music blog: "Free-Style Improv Basics"